A Statement Ring for Everyone
August 15th, 2023
At Aucoin Hart Jewelers, we believe a statement ring is more than an accessory; it's an expression of your distinctive personality. These eye-catching pieces can elevate any ensemble, adding elements of glamor or sophistication. When choosing a statement ring, reflect on your personal style, interests, and what you want to portray. Our inventory here offers an incredible array of designs, so you're certain to find a piece that resonates with your individuality. Discover your ideal statement ring at Aucoin Hart Jewelers, where we celebrate every facet of you.
The Minimalist
If you're a minimalist at heart, fashion rings that exhibit simple silhouettes and neutral colors are a fantastic choice. Consider pieces like the Ippolita Classico Chimera Hammered Dome ring. Its subtle, organic shape and refined dual-tone color scheme speak to understated elegance. This ring, with its balanced harmony of form and hue, encapsulates the minimalist aesthetic—proving that simplicity can indeed make a powerful statement.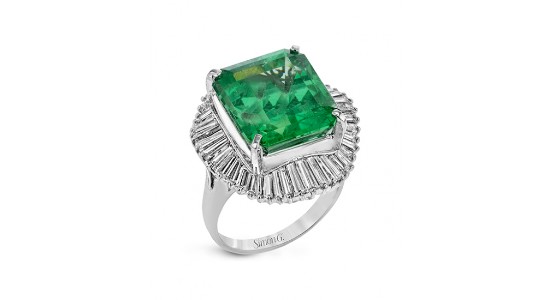 The Eccentric
For those with eccentric tastes, a fashion ring featuring elaborate silhouettes and bright colors is a suitable option. This Simon G. fashion ring is a prime example; its intricate design and large, eye-catching emerald creates a vibrant, eye-catching spectacle. This statement piece showcases how bold colors and complex structures can bring a flourish of excitement to your ensemble. A ring like this would catch the light with the wearer's every move and command the attention of onlookers.
The Edgy
Edgy style calls for fashion rings with bold outlines and cool-toned metals. This exquisite men's ring captures such an aesthetic with its strong, geometric design and sleek black finish. The contrast between the black and yellow gold adds an unconventional twist, embodying the daring spirit of edgy style. This piece confidently states that fashion is a creative and dynamic form of self-expression. Embrace your daring side with fearless designs from the exceptional collection at Aucoin Hart Jewelers.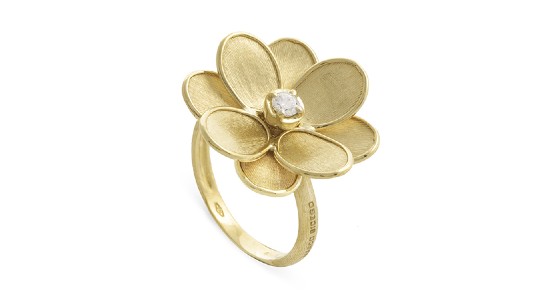 The Feminine
If your style leans towards the feminine, you'll likely adore statement rings with dainty silhouettes, delicate gems, and designs inspired by nature's beauty. Take this Marco Bicego Petali ring as an example. Its petal-shaped profile and sparkling diamonds are reminiscent of a tender flower, while the warm yellow gold adds a touch of elegance. This ring encapsulates the soft, enchanting allure of feminine style. Awaken your inner romantic with delicate, nature-inspired statement rings.
The Glamorous
For lovers of luxury and glamor, statement rings featuring opulent materials and elaborate designs are key. This diamond fashion ring from our own Aucoin Hart Jewelers collection is a stunning example. Encrusted with glittering diamonds and set in sumptuous 18k white gold, it embodies luxury and radiates brilliance. The ring's intricate chain motif further enhances its allure, symbolizing the ultimate in tasteful sophistication with its chunky yellow gold design. Immerse yourself in a world of glamor with luxurious, precisely crafted statement rings from Aucoin Hart Jewelers.
Find the Best Fashion Ring for You at Aucoin Hart Jewelers
At Aucoin Hart Jewelers, we invite you to explore our carefully curated collection of fashion rings and more. Each piece in our Metairie jewelry store has been selected for its premium quality, unique design, and ability to tell a story. For a truly customized experience, request an appointment for a personalized consultation with our knowledgeable team. They're enthusiastic to guide you through our diverse inventory and help you find pieces that resonate with your individuality. Discover the Aucoin Hart difference today!