Find The Right Diamond Engagement Ring For You
August 12th, 2020
Aside from being a symbol of one's devotion and lifelong commitment, engagement rings are undeniably one of the most stunning pieces of jewelry you'll ever wear. This is why it's so important to find the perfect style to suit your unique style and love.
The thrill of the special moment when the engagement ring is offered and accepted is made even sweeter when the ring captures your bride-to-be's personal light. With only one chance to get it right, it's important to make this choice carefully.
Steps to Choosing a Diamond Engagement Ring
Eager to reduce any stress involved, we've prepared some simple guidelines and considerations to get prospective couples started in the world of choosing a diamond. Whether you're planning to present an engagement ring to the love of your life or you're eagerly waiting to be offered the ring of your dreams, it's important to understand the ins and outs of choosing a diamond center stone.
Set a Budget
Setting an engagement ring budget is one of the first steps to consider before you start looking at rings. Opt for a realistic range to allow flexibility and comfortability. Determining that general amount should be entirely up to you and your significant other. It's important to create a budget that you are confident with from the start.
Figure Out Her Style
One of the most important steps is determining the right style that perfectly reflects your significant other's personality and taste. This is a keepsake that will be a reminder of your love for each other for the rest of your lives. It's a treasure that she'll be proudly displaying for many years to come.
It is best to do some preliminary homework to understand what's trending and the preferences of your significant other. One helpful activity is to examine the jewelry she already owns and try to identify her styling preferences based on the items in her collection you know she adores. Another option is simply asking her which styles of engagement rings she thinks are lovely and having that open conversation with your soon-to-be fiance. Certain couples love planning details together. She might prefer to be surprised by the exact proposal moment, but still want input on the style of ring she will happily accept.
Consider asking friends and family for advice. Not only is it a way to let them know of your honorable intentions, but they usually also have great insight. It is another surefire way to ensure you're finding a style your future bride is going to love. We understand that choosing an engagement ring is a little difficult, but with guidance, you're sure to find a ring she will proudly wear.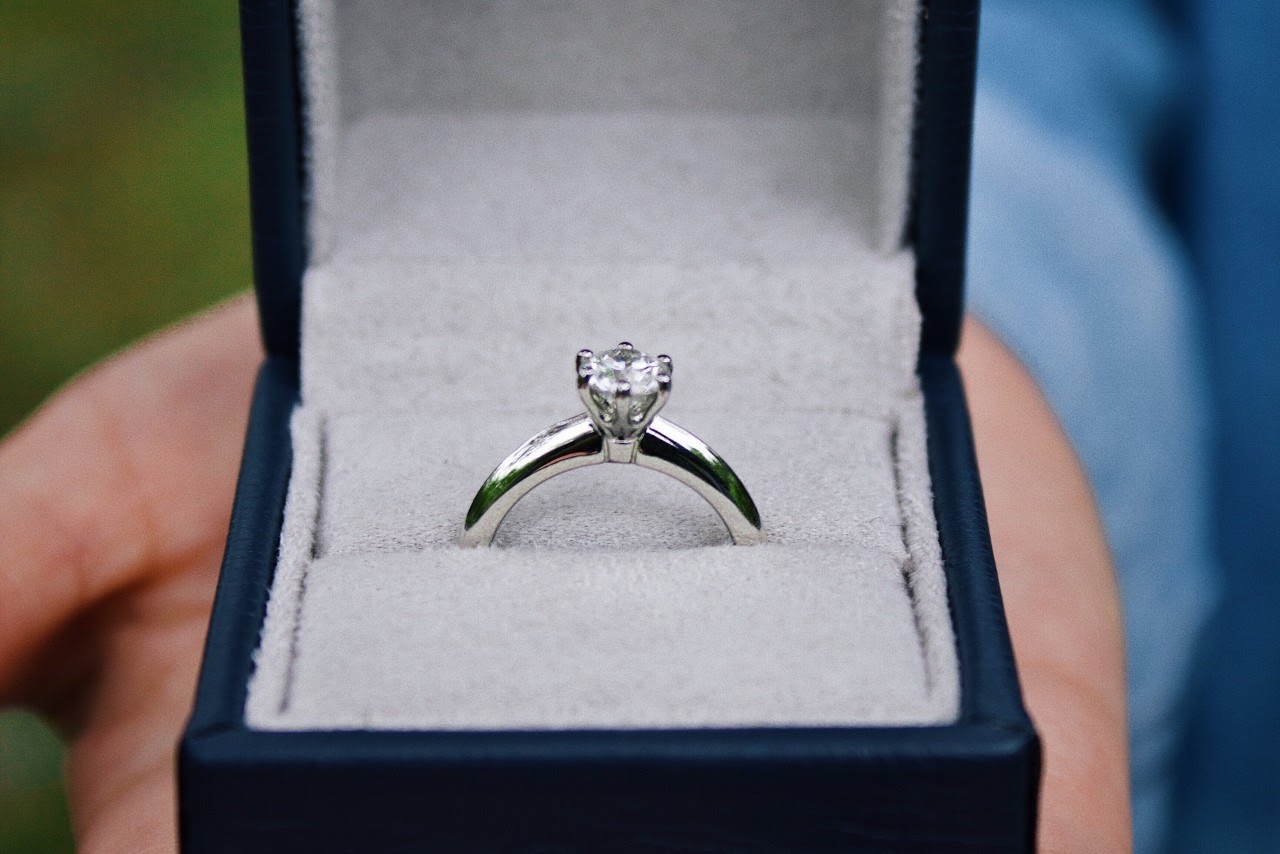 4 C's of Diamonds
Aside from figuring out her personal style, you also should have a basic understanding of diamonds and their terminology. The quality of a diamond is determined by the four C's; cut, color, clarity, and carat. The grading of these elements helps determine the value of a diamond and indicates its quality. Oftentimes, diamond sellers set their prices based on grading reports.
Knowing the basics of these gradings is helpful when comparing two similar diamonds, but what remains most important is how the diamond appears to the naked eye and how attractive it is to you overall. In this sense, having a foundational understanding of the four C's is imperative as a buyer so that you can avoid spending your budget on a component that might go unnoticed.
Overall, the most important factor to understand is a diamond's cut. This impacts the visible natural beauty the most. This specifically refers to the quality of a diamond's angles, proportions, symmetrical facets, brilliance, fire, and finishing details. These factors directly impact a diamond's ability to sparkle, as well as its aesthetic appeal.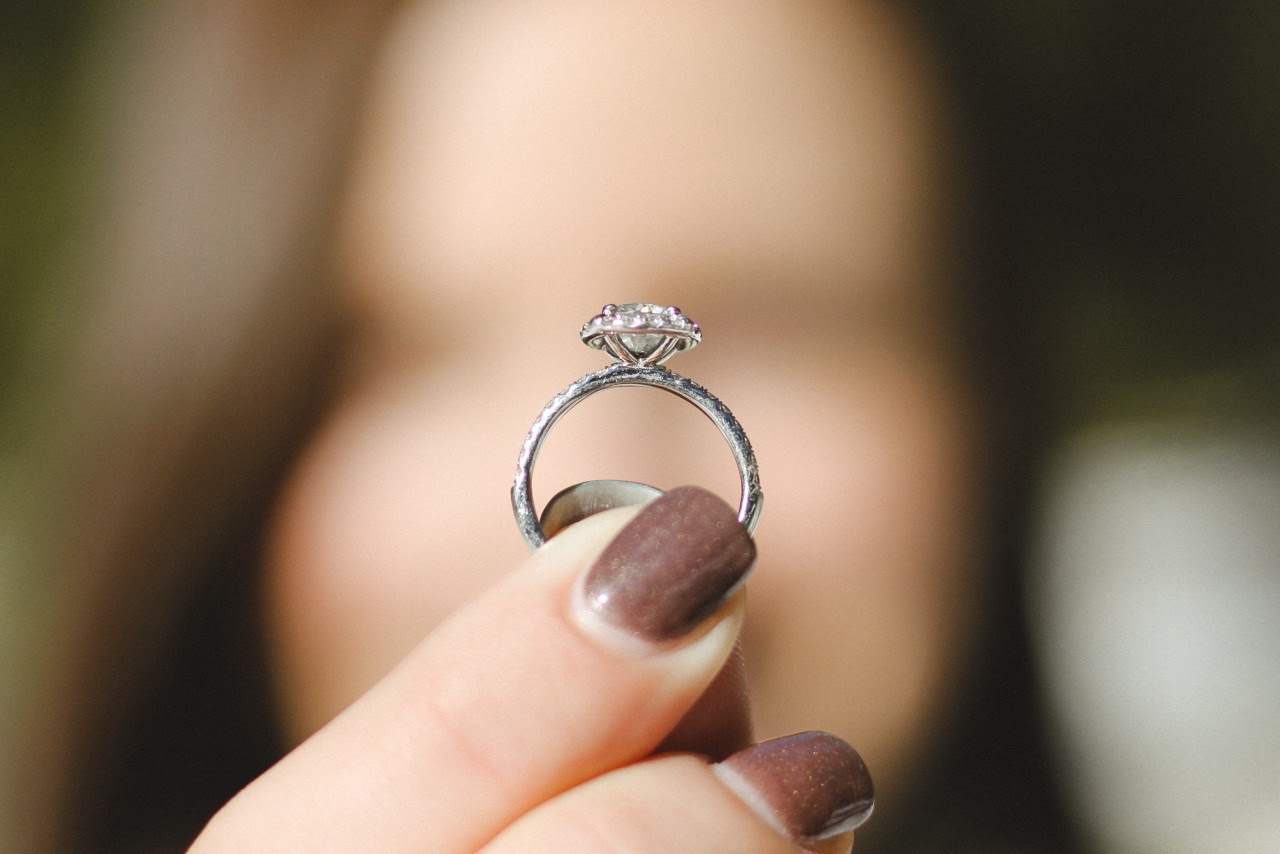 Things to Avoid
If you're a beginner in the world of shopping for diamonds, there are plenty of things you should be aware of and try your best to avoid. First and foremost, you should only be purchasing diamonds with a laser inscription to verify the authenticity and ensure the amount you're paying is for a pure, real diamond.
Next, try not to get fooled by "wholesale pricing" or deals that are too good to be true. Diamonds are among one of the rarest and prestigious gems to come by making them highly valuable and desired within the jewelry market. It's important to find something within your budget, but not sacrifice the authenticity of the diamond itself.
Lastly, don't pretend to be a diamond expert. It's perfectly acceptable to ask jewelers for their recommendations as well as family and friends. If you're asking a jeweler, remember your own opinion and preference matter most, but it is still important to get input and help to find the ideal engagement ring for your significant other.
Aucoin Hart Has All The Helpful Expertise You Want
Altogether, finding an engagement can be a stressful process, especially if you're unsure where to begin. Luckily, shopping at Aucoin Hart will give you a personalized and streamlined experience, where you can learn about diamonds and pick the perfect ring out with confidence. The diamond experts at Aucoin Hart strive to help every client leave with something absolutely dazzling that exceeds their expectations. Your epic proposal moment awaits, once you stop by Aucoin Hart Jewelers in Metairie, Louisiana