Jewelry Trends: What's Hot Right Now
August 23rd, 2020
New jewelry trends range from professional and polished, to elegant and ultra-glamorous, or even rugged and bohemian. With designers taking inspiration from a mix of decades and combining them with the trends of today, it's no surprise we're seeing a wide range of aesthetics manifest via necklaces, earrings, bracelets, and rings.
Which Jewelry Is Trending?
Trendsetters, this is your chance to stay ahead of the curve by discovering which pieces are an absolute must-have this year. Let's take you through some of the most trendy jewelry Aucoin Hart has to offer. Then you can decide which trends are worth following this season!
Mixed Metal Fashion Rings
Do you prefer silver or gold? For this style, you don't need to choose. Similar to two-tone clothing that has become chic over the past few fashion seasons, two-tone jewelry has also made its breakthrough.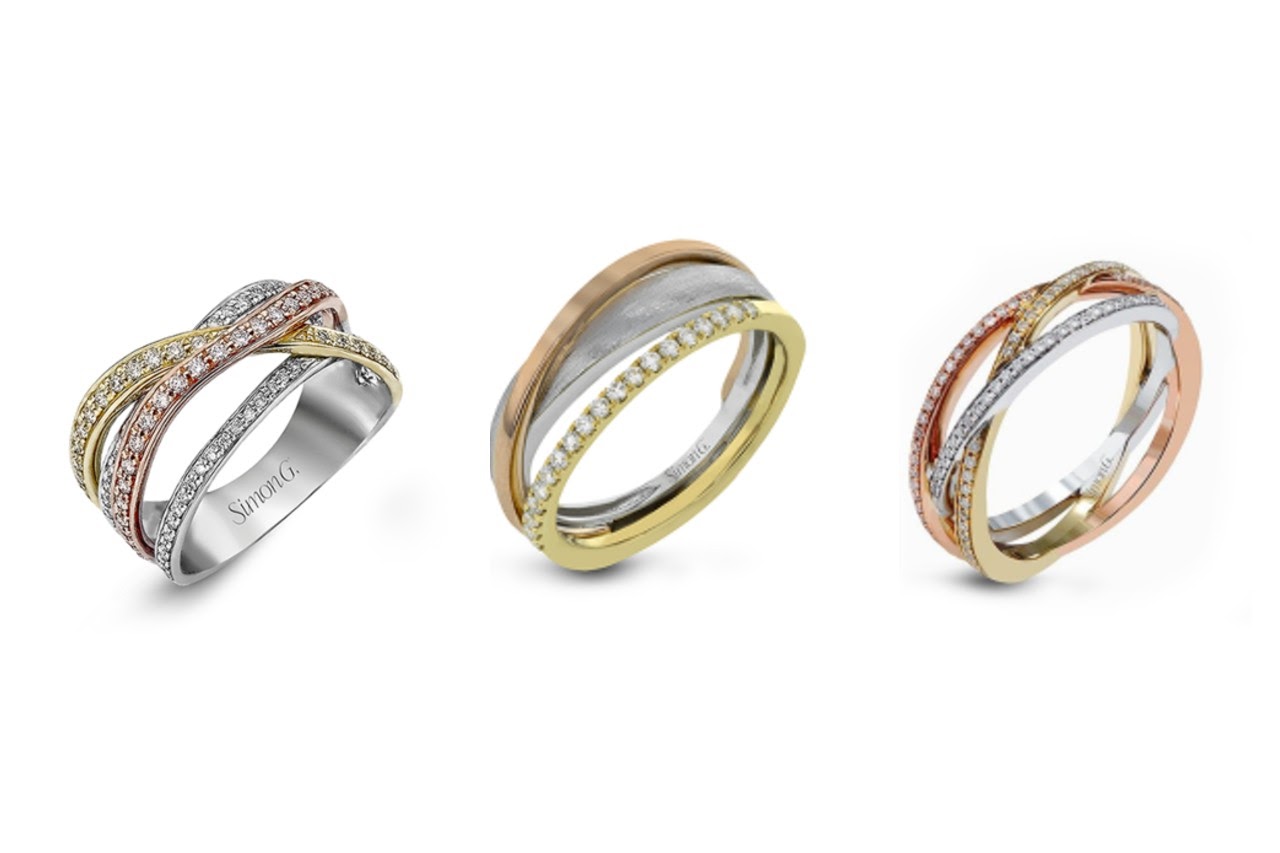 Simon G mixed metal fashion rings are dominating the jewelry market right now. With their warm yet intriguing contrast tones, these rings will become an essential element toward spicing up your style.
Pyramid Earrings
Whether you're heading to work or to a patio lunch with friends, these pyramid-shaped stud earrings won't miss a beat. Wearing geometric pieces this season will keep you on-trend and one step ahead of the fashion scene.
Subtle, yet mighty, this style seamlessly transitions from any day-to-night activities. It ensures you're ready for whatever comes your way.
Bar Necklaces
There is no denying that the bar necklace has become one of the most classic staple items in every women's jewelry collection. There's just something about the daring architectural overtones, yet simple look that keeps it aesthetically relevant and fresh for the changing season.
The bar necklaces offer a wide range of styles that pair perfectly for work or play. Its versatility and modern style make it a desirable piece that any woman would be able to tie into this year's fashions.
Chunky Gold Bracelets
Gold is one of the most perfectly balanced colors to rock, so why not pair it with an incredibly chic chunky bracelet? For those looking to incorporate warm colors into their wardrobe this season, these chunky gold bracelets are the trend for you.
With so many different styles, you can easily find a bracelet that not only complements your personality but provides a dashing yet sophisticated element into your outfits this year. Whatever else you're wearing, your wrists will look great.
Shop Trending Jewelry Pieces at Aucoin Hart
Altogether, these jewelry trends will keep you looking fresh and on-point this season. They're the perfect balance of sophistication and style. Aucoin Hart offers all of these styles along with hundreds more to choose from. They're a premier place to shop due to their high-quality products and excellent craftsmanship. Which styles are you looking forward to wearing? Aucoin Hart can help you choose the perfect pieces to not only add to your collection but showcase your personality as well.