Make A Statement With Bold Jewelry
March 5th, 2022
Jewelry is an exhilarating way to add even more personality and expression to your attire. To elevate an outfit, switch out minimalist pieces every once in a while for pieces that truly speak for themselves. Our experts at Aucoin Hart Jewelers have put together a guide to statement jewelry that will bring interest and individuality to any look.
Rock Candy
One of the easiest ways to punch up the boldness in everyday looks is to add one or two precious, colorful statement rings. For a regal look, pick a piece with a bright gemstone and polished metal. These colorful rings are perfect for adding a flash of intrigue and delight to an otherwise bland outfit, ensuring a richly hued and spectacular aesthetic.
Doves By Doron Paloma is a designer brand known for their eccentric designs. The blue topaz emerald cut stone is accented by a white agate halo that results in a gorgeously unique statement ring in their Mykonos collection.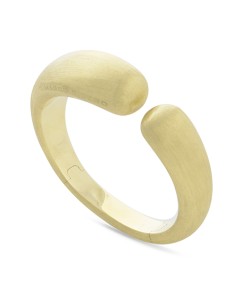 Adventurous Bangle Bracelets
When it comes to jewelry used to accessorize your day-to-day outfits, think outside the box. With recent jewelry trends, the more spectacular and bright, the better. Take your bracelets to the next level with audacious bangles. A thick bangle with intricate designs or studded with colorful gemstones is sure to set you and your style apart in the best way.
This yellow gold Lucia bangle by Marco Bicego is just the kind of statement-making piece dominating runways and fashion blogs around the world. Its shape and weight are undeniably unique and fresh.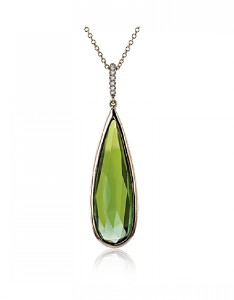 Regal Gemstone Necklaces
Go gutsy with oversized, richly colored gemstone necklaces. Think of the iconic Heart of the Ocean necklace from Titanic. Regal, opulent gemstone necklaces are sure to grab the attention of everyone in the room. These pieces are great for bringing a bit of color and extravagance to black tie events and formal wear.
The vibrant tourmaline pendant in this Simon G. necklace is an absolute stunner and will certainly spark conversation at any event.
Trendy Chains
This is one of our favorite trends from recent years and it does not appear to be slowing down in popularity. Jewelry designers around the world are taking this utilitarian jewelry staple and blowing it up to fantastic proportions.
Oversized chain necklaces, bracelets, rings, and earrings are overwhelming the fashion jewelry industry. Pick a piece like this sterling silver chain bracelet from Ippolita featuring large links with a hammered finish.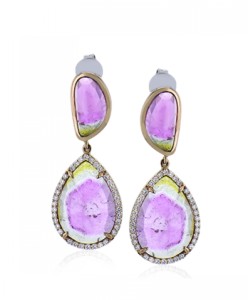 Sparkling Drop Earrings
Pull all attention to your face with a pair of gemstone drop earrings that are positively dripping in sparkle. Drop earrings are great statement makers because they move with you and catch the light from every angle to draw the eye to your most important features.
These fuschia tourmaline drop earrings are a dazzling display of light and color that may be just the touch of daring creativity your look needs.
Shop Statement Jewelry at Aucoin Hart Jewelers
We at Aucoin Hart Jewelers take pride in our exceptional customer service and exquisite collections of designer jewelry we have been showcasing since our inception. Family-owned and operated, we staff our Metairie jewelry store in Louisiana with a team of incredibly knowledgeable and experienced experts in the world of luxury jewelry.

It will be our honor to guide you through our selection of fashion jewelry, wedding bands, engagement rings, and more. Request an appointment to meet with us in person or browse our stunning inventory online.